AnTonio is a unique subtitle solution for theater, musical and opera.
The audience receives the subtitles synchronously on their smartphones, in their desired language.
In the hall, live podcast or live stream!
With Tonio – the new global standard for data via audio – is it possible to digitize spoken or sung text
and transmit the translated subtitles via the audio signal to the mobile devices of your audience.
Not audible and simultaneously, with any given sound system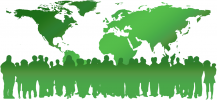 Reach for new Target Groups
With AnTonio you can tap into almost unreachable target groups.
You can provide your audience with subtitles in any number of languages.
As it also works via Radio, TV and live stream your audience can benefit worldwide.
As you only need a sound system to start, there is no need for costly investments.
Just plug in the Tonio-Decoder and you are ready to play.
Let the audience bring their own devices and establish yourself in the digital age.
Privacy is a fundamental right. Accessing a user's microphone requires trust. Tonio doesn't record or save audio. Tonio does not require a login. We are passionate about protecting your privacy. Our mission is to allow users to receive data from a trusted source without strings attached.